This profile was automatically translated using Google Translate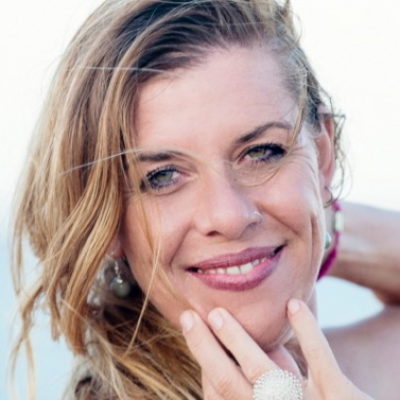 Cristina
Dénia / Valencia, Köln
The lightness of being alive and enjoying ...
Philosophy
As a holistic health and prevention consultant, I accompany people on their way to a healthy lifestyle and a better quality of life.
My own experience shows me that suppressed feelings and non-lived sexuality can lead to illness. Conversely, I am convinced that true living sexuality and lust, the permitting of closeness and feelings and deep touch on all levels, strengthen the immune system and our self-healing powers, prevent diseases and sustainably lead to health.
Since I've decided to go tantric, overstate social taboos and conditioning, I feel much more fulfilled, richer, lighter, more relaxed ... just happier. I discover myself more and more.
I would like to pass this miraculous opportunity on to quality of life and joy, and be able to dedicate myself to the flow of life with confidence and humility, to other people through the Tantric massage, in which I have found my calling.
Here I open a warm, value-free and sheltered space to open you and your heart completely, to give you completely and to let fall, to feel you and to meet the love of yourself. I pick you up where you stand, accompany you with a lot of empathy on a journey of security, the senses and the pleasure to yourself, without any intention and goal.
It is not a sexual, but rather a heart-opening massage, a touching and worshiping ritual, a recognition of your body in its beauty, as the temple of your soul. Since I see the human being as a whole, I also include the intimate area in a matter of course and naturalness.
Discover yourself, your true sexuality (it is the origin of the life energy and the source of power of every human being), your sensuality and with it the magic and lightness of life again, because in deep joy and pleasure transformation and healing can happen.
I look forward to accompanying you on this sensual journey from thinking to feeling and touching you and your heart.
Cristina
Dates & Facts
Experience

Languages

English, German, Spanish

Qualifications

Tantric Massage Practitioner TMV®
Background & Training
Hawaiianische Lomi Lomi Nui Massage
Gesundheits-, Ernährungs- und Präventionsberaterin, ALH, Haan
Quantum Energy Coach, Fachgebiet: Gesundheit, Sexualität, Ibiza, Spain
2. Grad, USUI System of Reiki, International Reiki Academy, Javea, Spain
1. Grad, USUI System of Reiki, International Reiki Academy, Javea, Spain
Aufbau eines internationalen Netzwerkes in der Gesundheitsbranche
Tantric Massage Practitioner TMV®
Professional training according to standards of the German Tantric Massage Association (Tantramassage-Verband, TMV®)
Start of Training, 7/2014
Certificate, 6/2017

Curso Masaje con piedras calientes, Instituto Superior de Quiromasaje, Madrid
qualifizierte Walking Begleiterin, ALH, Haan
Regionalverkaufsleiterin, Deutsches Reisebüro GmbH
Trainer B Lizenz, Bundessportakademie, Worms
Sales Manager Alamo Autovermietung
Betriebswirtschaftsstudium, Fachrichtung Touristik
Flugbegleiterin, Deutsche Lufthansa
Ausbildung zur Hotelfachfrau, Novotel, Düsseldorf