This profile was automatically translated using Google Translate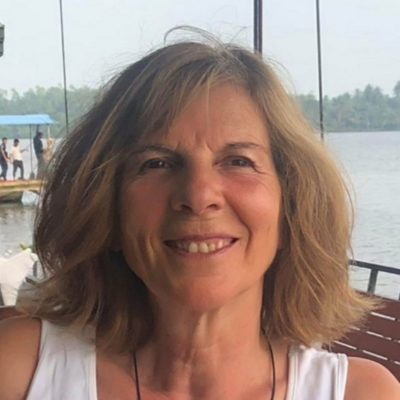 Véronique Brissonnet
Hannover
"A place and encounter to let go and feel secure"
"It was an incredibly sensual and deep experience. The aftertaste satisfaction and a feeling of happiness."
"Very empathetic, the perfection of body, mind and soul"
Philosophy
The Elysia massage is a versatile and effective art of touching the whole body, which appeals to all senses, hearing, seeing, smelling, feeling, being touched. She builds a bridge for you between body and mind. It opens the perception for your senses. Feeling yourself with all your senses when the whole body is touched. It's like a journey inside.
Allow every sensation, every feeling that arises during the massage.
Don't do anything about it, feel! Enjoy what is currently showing in your body.

Dates & Facts
Experience

Seit 2001 hauptberufliche Masseurin

Seit 2004 Leiterin der Massagepraxis Elysia

Languages

English, German, French

Qualifications

Tantric Massage Practitioner Andro® L2
Background & Training
Ying-Yang-Massage Ausblidung bei Andro und Seth Berlin
Fortbildung Hawaii Festival Chiemgau
Fortbildung Körpertypenseminar und Zugänge in der Tantramassage im Diamond Lotus Lounge
Fortbildung Hawaii Festival Chiemgau
Tantramassage Ausbildung level 2 bei Andro, Saranam und Suriya Berlin
Tantric Massage Practitioner Andro® L2
Advanced Tantric Massage Training (Level 2)
Start of Level 2, 1/2008
Certificate, 11/2011

Ayurvedische Ganzkörpermassage Abhyanga Ausbildung bei Pramoda Sabine Altmann Hannover
Fortbildung Hawaii Festival Chiemgau
Hawaiianische Heilmassagen Ausbildung bei Angela Simon in Hamburg, Lübeck und Hannover
Beckenbodenmassage, Anal-/Prostata-Massage mit K.Ruby/USA Belzig
Ausbildung zur Atemlehrerin (Breathness Rebirthing) bei Bernd Schröder Berlin
Zahlreichen Tantra Workshops im Diamond Lotus Lounge Berlin
Tantramassage Ausbildung level 1 im Diamond Lotus Lounge Berlin
Ältere Leute zu Hause gepflegt
Studium in Neuer Philologie an den Universitäten Paris XIII und Paris VIII
Ausbildung zur Grundschullehrerin an der Universität Paris-Nord