This profile was automatically translated using Google Translate
For many years on the spiritual tantric path, I have made this vocation my profession and offer courses as a yoga and tantra teacher, and as a psychotherapeutic practitioner and sex therapist, counseling and healing massage.
Offers
Classes and Workshops
Philosophy
Tantra massage by Helfried
=====================
Tantra massage (in my eyes) is a massage that a tantrically trained person gives. Lovingly, unintentionally, humanly and spiritually connected. Tantra massage can include the genital area and sexual desire - but does not have to. It depends on what you want.
Massage speaks a language of the body. To put it a little poetically, the quality of a touch can be deep in the tissue, delicate as a breath of air, pleasurable, deeply relaxing, keeping you safe, or also arousing dynamic. Tantra massage is a ritual with knowledge and experience in the background. What is important to me when massaging is the unintentional attention for you.
This page is about Tantra and many are looking for it, for whom sexual issues are particularly important. Ideas about sexuality and relationships influence our body awareness. Tantra massage gives you the opportunity to experience yourself personally in your own sexuality beyond partnership-based interaction.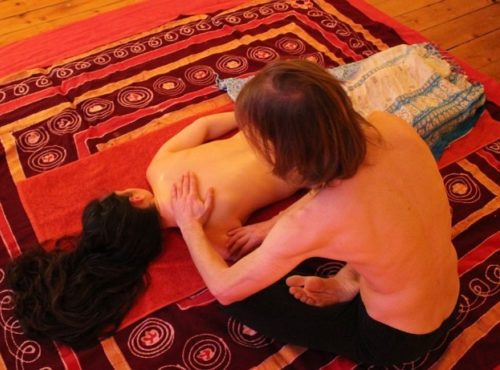 ===================================
List of offers Tantra massage (from 1½ hours):
===================================
- Intuitive massage
- Make a wish massage
- healing massage with consultation
- massage with several hands *
- Multi-handed 2 + 1 massage
(from your partner and me)
- Massage Coaching 2 + 1
(You massage your partner with me and learn and get tips)
*) on request or subject to availability.
I started my massage training in 1987 with a Buddhist monk from London. Further training with different teachers and institutes; among others with Michaela Riedl, Secret-of-Tantra, and with Andro in the Diamond Lotus in Berlin.
More about me and an insight into the rooms at www.helfried.de
Dates & Facts
Experience

Tantragruppen seit 2009

Tantramassage seit 2009

Sexualtherapie seit 2012

Yogakurse seit 2015

Languages

English, German

Qualifications

Tantric Massage Practitioner TMV® (AZ)

Tantric Massage Practitioner Andro® L2

Sexocorporel Sexual Therapy Training
Background & Training
Tantric Massage Practitioner TMV® (AZ)
Certification for practitioners with professional experience.
The Tantra Massage Association (TMV®) offers the chance of extraordinary certification for providers with comprehensive professional experience
Start of Certification–
Certificate, 12/2017

Tantric Massage Practitioner Andro® L2
Advanced Tantric Massage Training (Level 2)
Start of Level 2–
Certificate, 9/2013

Sexocorporel Sexual Therapy Training
Psychotherapeutischer Heilpraktiker
Tantralehrer-Ausbildung bei Secret-of-Tantra
Leben in der tantrisch inspirierten Gemeinschaft im hohen Fläming