This profile was automatically translated using Google Translate
Health practice for holistic body awareness
Offers
Classes and Workshops

Other offers
Philosophy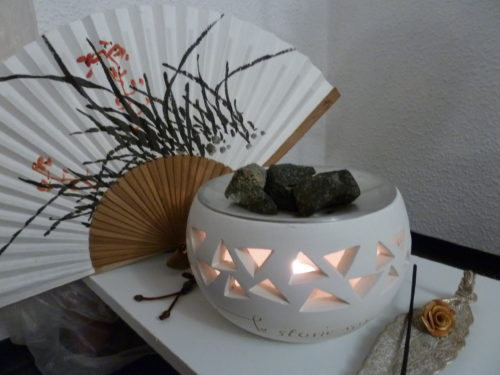 Welcome to my health practice for holistic body awareness and energy balance in Esslingen
Appointments by arrangement Monday to Friday. Massage Saturday once a month.
Immerse yourself in the realm of the senses - experience your inner being

My hands will guide you on a sensory journey that combines the physical, emotional and spiritual levels.
Let yourself be carried by a wave and enjoy the holistic and respectful touches. Experience loving appreciation, a new mindfulness and an intensified awareness that penetrates into all areas of life.
In the loving and devoted massage you will experience deep relaxation and true joie de vivre and you can freely experience your lust and sensuality in a completely new way.
Sensitize your senses and your perception - feel yourself with all cells of your body.
Only the present moment counts - time and space and all values you know dissolve. Let yourself drift...
Be filled with the deep longing for acceptance and understanding, for closeness and tenderness. Draw again from the source of holistic well-being and vitality, feel the loving self-awareness and let yourself be put into a state of lust and bliss.
I invite you to immerse yourself in the infinite beauty and depth of your feelings and let your heart be touched and your soul caressed.
*NEW* available now
Black Passion Oil Ritual
See and feel latex. Let yourself be enveloped in lots of oil. Experience the de luxe massage on a latex sheet. Glide weightlessly over the sheet, let yourself be moved and massaged under your body. Experience unknown and sensual sensations on your skin and let all your senses be sensitized. Experience the power of words that guide you through this ritual and experience the intensity of feeling when you are blindfolded.
Massage duration 2 hours, total duration approx. 3 hours
Your appreciation amount 290.- €
Captivating magic - Tantra bondage massage
Experience magical moments with unconditional reception and the captivating play of the senses.
You immerse yourself in an unknown world, which you can experience through your intense feeling. You can give up everything, let yourself go and surrender to the intoxication of the senses in complete passivity and trust.
Darkness envelops you and makes you feel every touch even more intensively. You feel how carefully the ropes are wrapped around your body and electrify every millimeter of your skin. You feel the tension of the unknown that makes you tremble and you experience the alternation of gentle dominance and infinite tenderness, of captivating hugs and the gentle tantric play of feelings.
Bound and completely with you, you can experience yourself anew. Let yourself be fascinated by additional stimuli from the SM area, if you want.
Enjoy and allow yourself to relinquish control and let yourself be guided with confidence.
Massage duration 2 hours, total duration approx. 3 hours
Your appreciation amount 290.- €
Feedbacks:
Dear Romina,
Today is the day I get a yoni massage from you. I've been looking forward to it ever since we made the appointment. You receive me in a friendly way in a lovingly prepared massage room. With an open, calm gaze, you inquire about the remarkable experiences I have had with yoni massages, what I particularly liked and whether I might be sensitive to one or the other part of the body. You make the welcome ritual warm so that I immediately felt familiar and in good hands. You awaken my senses on every square centimeter of skin by brushing your hair over my body, gently stroking your fingertips over my spine, later with warm oil and full, supple palms that perseverely trace every curve of my body. I'm aware of every touch, even though I sometimes dive into a faraway in-between world where I relax deeply and hardly breathe. With your loving, warm nature you touch me imaginatively and variedly, delicately and confidently, sometimes cautiously, sometimes with lively verve. The yoni massage feels uniquely beautiful, a new tingling sensation, indescribable! I feel completely nourished and satisfied.
The result is a body work of art that lasts only a short time, but which I will remember for a long time.
Thank you Romina for your loving presence and the massage you gave me today.
Monica
Hello Romina,
Thank you very much for a wonderful experience that I did not expect. It was my first tantra massage and of course you think about it beforehand. My motivation to try a tantric massage was the fact that I have been so tense in my professional and private life over the last few years that there is hardly any time left to calm down, relax and recharge my batteries. It was time to do something about it and somehow I became aware of the topic of tantric massage. However, I would never have thought it possible that it would be such an experience. It was just an indescribable, beautiful experience and today, a good week later, I'm still flashed when I think back. From the moment of the welcoming ceremony, when we held hands, I vanished as if in a trance. It's hard to put into words how body and soul came together. I want to thank you for this wonderful experience.
Best regards,
Bernd
Hello dear Romina,
First of all I would like to thank you for the wonderful tantric massage that I was able to experience with you on June 12th. At that point in time, due to separation, far too much pressure in my new job and also due to a sexual "Waterloo", I was more out of my center than I had been for years. My self-image in almost all areas was on the ground. A dear friend gave me the tip for the Dakini and I am glad that I was able to enjoy the massage with you. It was my first tantra massage and the very first encounter was characterized by warmth and acceptance that I was still a bit tense, but I now knew it would be fine. And it got even better. A few minutes had to pass before I could completely take on the passive role of the recipient (which I am otherwise very seldom) but with every minute I felt more and more your devotion, that I was accepted and also arrived, the feeling of immersing myself in you warming and sheltered flow, forgetting the time, all burdens and worries fall away and at the same time freedom and relaxation spread. Everything was fine in the end, I was fine, the world was fine and my self-image healed to such an extent that it was restored in the days and weeks that followed. I still feel wonderfully ready and centered. Yes and that continues to this day.
I'm already looking forward to the next time.
Mark
Hello Romina,
I was able to experience another highlight with you this afternoon.
It is amazing with what feeling and empathy you approach the man and also bring your body where necessary. There were clear streams of energy that I had never noticed before.
I will treat myself to this unforgettable experience from time to time.
You must
Dear Romina!
No one who has never experienced a tantric massage should claim to really know their body.
Those who, like most of us, grew up in a spirit that mostly instrumentalizes the physical, will be surprised by new, blissful physical experiences in tantra.
And with you, dear Romina, there is also a deep spirituality, which, always having a pleasantly grounded effect, is able to awaken deeply buried energies. They last and have an effect on everyday life.
And if you can let yourself go a little, you can take off with you on an incredible flight!
Namaste - bow to you!
dieter
Dear Romina,
It's true and as you said, because you felt it: after your massage I was floating, lying on the futon. But also during it. Although before that you got me firmly on my feet on your red carpet.
You are like your gaze: sensitive, accommodating, and at the same time grabbing. A fascinating combination.
You also said, and that particularly moved me, that the massage almost created a kind of unison at times. If I think about it carefully, it was because I had to voluntarily follow your touches. An interesting paradox. And of great charm.
The light pressure on the tip of my index finger was your last touch before you left. She stopped until you came back.
I thank you.
See you soon.
f
THANK YOU Romina, that the massage gave me the feeling of being a real MAN again and that I am so proud of everything on my body!!!!!Because it received true respectful, loving attention and touch.
I'm just HAPPY after this day. And my conscience is totally calm and satisfied....
Since my early teens, with something that calls for liberation and true peace and joy, there has been an irrepressible desire to have clarity in sexual matters. Even if I had to walk along on the edge of despair for a few decades, today on December 11th, 2018 I was able to experience this liberation and peace in an amazing way through God's great grace and THROUGH YOU.
I will forever thank you Romina and am excited to see what the future will bring....I would be very happy if contact with you today was a start because I feel like I finally found someone years of searching, who knows what he is talking about and can really help. This is priceless.
Today I was able to experience for the first time how a mentally healthy woman deals with a man to make him strong and what good things she can do through her wonderful femininity!
God created us wonderfully!!!
Have a good time Romina, hug me tightly in your thoughts, thank you and goodbye. Tears of joy are just rolling down my pillow, I'm so relieved because the fog has disappeared before my eyes and with it all despair.
God bless you!
With love, respect and deep gratitude.
Yours M
Dear Romina,
the last massage was very good for me. I had a lot of power after that.
Your long slipping massage strokes got me
I learned how to rest and how to stretch the body positions
know and love my marvel body even better and
I felt really comfortable and grateful in him. i came in
my power.
Your versatile repertoire of massage variations added
into a harmonious whole and was so good for me. I have
only the expression "heavenly". And also at the final
you showed yourself as a great artist in my eyes.
And you are attractive too.
To put it even better in the words of the poet Eichendorff:
"And my soul tensed
spread their wings,
flew through the silent lands,
Like flying home."
(from Mondnacht)
YOU are so good for my body and my soul.
I will come back to you for the massage.
Merry Christmas Romina, Merry Christmas!
Sincerely, Eberhard
Dear Romina,
Your massage did me a lot of good again yesterday and I really enjoyed being with you.
Bringing security and fascination to a common denominator is the art that you have mastered, a soul warmer.
For example, you get a valuable feeling with every visit
gifted, to be newly invited, to be welcome, paired
with an excitement and curiosity that starts again and again
can and may.
Actually it starts at the beginning, you create a free one
and informal atmosphere, your eyes bestow
Trust and just this curiosity. Already in the so-called preliminary talk,
this could happily continue for hours if uninhibited
and donates familiarity, there is always something
to laugh. I really want that moment too
as very valuable and as something special.
I look forward to seeing you again.
Many thanks for everything.
Best regards
viola
Dear Romina,
your ritual and your touches were again a wonderful and very intense experience.
You have prepared a space for me in which I can simply let myself go and enjoy your touch to the fullest. This flow still accompanies me and I can continue to draw on your ritual.
Dear Romina, thank you very much for your closeness and for allowing me to feel so intensely.
I'm really looking forward to seeing you again and until then I wish you a wonderful time and stay healthy.
Best regards
Peter
Dear Romina,

This time you led me through a ritual that was filled with very intense and different stimuli and touches. With the rope and through the immobility you have led me into a deep feeling, into a state of sensual relaxation and excitement at the same time.
Thank you for this unique experience for me. I hope that we can continue to expand this experience and I'm already looking forward to our next ritual and seeing you again soon.
Dear Romina, thank you for touching me so deeply and for meeting me with so much love, warmth and closeness. It's great that you're there.
Much love and warm regards
Paul
Dates & Facts
Experience

Languages

English, German

Qualifications

Tantric Massage Practitioner TMV®
Background & Training
Mitglied Netzwerk Berührung e.V.
Mitglied Dt. Gesellschaft für alternative Medizin (DGAM)
Mitglied Tantramassageverband (TMV)
Fördermitglied An kana Te Academy - Verein zur Förderung des Bewusstseins, Wien
Jahrestraining Contact Improvisation & Tantra bei Benno Enderlein
Tao Massage nach Russel/Kolb, Institut Nhanga Ch. Grunow
Hormonmassage für Frauen Kinderwunsch/Wechseljahre
Gesundheitpraktikerin gemäß der Deutschen Gesellschaft für Alternative Medizin (DGAM) bei
Workshop "Fesselnde Magie" Tantrische Fesselmassage bei Petra Schickedanz
Ayurveda Abhyanga Ganzkörpermassage bei Björn Borchers
Bewegungssequenzen in der Tantramassage bei Filomena Lorenz
Reflexion und Umgang mit sexuellen Störungen in der Tantramassage, AnandaWave
Einweihung in die Urlichtgroßmeisterschaft durch Alltafander Schedler, An kana te Academy
Tantra meets Bondage/BDSM bei Deva Busha und Matthias Grimme
Tantric Massage Practitioner TMV®
Professional training according to standards of the German Tantric Massage Association (Tantramassage-Verband, TMV®)
Start of Training, 2/2015
Certificate, 4/2016

Vierhandmassage/Ritual zu Dritt
Kompetenz trifft Leidenschaft, AnandaWave (5-Rhythmen-Massage, intuitive Massage)
Ausbildung zur Numerologin nach Dr. Endres und Michael Amira
Meditationstraining nach Michael Amira
Förderprogramm 1-4 von Michael Amira zur Förderung des Bewusstseins und der Persönlichkeit