This profile was automatically translated using Google Translate
The Tantric massage is the art of looking at people with loving eyes and making their inner being shine.

Offers
Massage Coaching

Classes and Workshops

other offers
Philosophy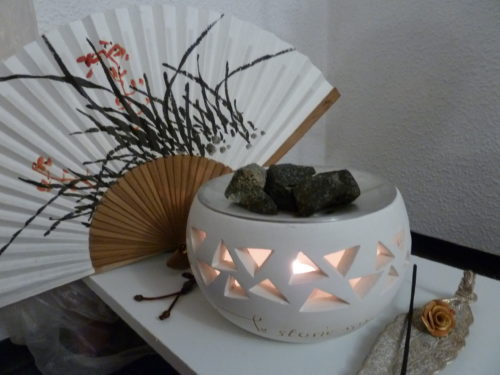 Dive into the realm of the senses - experience your inner being
My hands guide you on a sensory journey that unites the physical, emotional and spiritual levels.
Let yourself be carried away by a wave and enjoy the holistic and respectful touch. Experience loving appreciation, a new mindfulness and an intensified awareness that penetrates into all areas of life.
In the loving and devotional massage you experience deep relaxation and true zest for life and you can freely experience your desire and sensuality in a completely new way.
Sensitize your senses and your perception - feel with all the cells of your body.
Only the present moment counts - time and space and all the valences you know dissolve. Let yourself drift ...
Be filled with the deep yearning for acceptance and understanding, closeness and tenderness. Rebuild from the source of holistic well-being and vitality, feel the loving self-perception and let yourself be put into the state of pleasure and bliss.
I invite you to immerse yourself in the infinite beauty and depth of your senses and to touch your heart and caress your soul.
Captivating Magic - Tantra Bondage Massage
Experience magical moments in unconditional receiving and the captivating play of the senses.
You dive into an unknown world, which is experienced by your intense feeling for you. You can surrender everything, let yourself go and indulge in sensual passions in complete passivity and confidence.
Darkness envelops you and makes you feel every touch even more intense. You feel how carefully the ropes are wrapped around your body and electrify every millimeter of your skin. You feel the tension of uncertainty that makes you tremble and you experience the alternation of gentle dominance and infinite delicacy, of captivating embrace and the gentle tantric sensation game.
Tied up and completely with you, you may experience yourself again. Let yourself be fascinated by additional stimuli from the SM range, if you want.
Enjoy and allow yourself to give up control and trust.
Dates & Facts
Experience

Languages

English, German

Qualifications

Tantric Massage Practitioner TMV®
Background & Training
Teammitglied An kana Te Academy - Verein zur Förderung des Bewusstseins, Wien
Hormonmassage für Frauen Kinderwunsch/Wechseljahre
Gesundheitpraktikerin gemäß der Deutschen Gesellschaft für Alternative Medizin (DGAM) bei
Workshop "Fesselnde Magie" Tantrische Fesselmassage bei Petra Schickedanz
Bewegungssequenzen in der Tantramassage bei Filomena Lorenz
Ayurveda Abhyanga Ganzkörpermassage bei Björn Borchers
Reflexion und Umgang mit sexuellen Störungen in der Tantramassage, AnandaWave
Tantric Massage Practitioner TMV®
Professional training according to standards of the German Tantric Massage Association (Tantramassage-Verband, TMV®)
Start of Training, 2/2015
Certificate, 4/2016

Einweihung in die Urlichtgroßmeisterschaft durch Alltafander Schedler, An kana te Academy
Tantra meets Bondage/BDSM bei Deva Busha und Matthias Grimme
Vierhandmassage/Ritual zu Dritt
Kompetenz trifft Leidenschaft, AnandaWave (5-Rhythmen-Massage, intuitive Massage)
Ausbildung zur Numerologin nach Dr. Endres und Michael Amira
Meditationstraining nach Michael Amira
Förderprogramm 1-4 von Michael Amira zur Förderung des Bewusstseins und der Persönlichkeit
Offers near Romina