This profile was automatically translated using Google Translate
Pravahi Starck
Wölfersheim-Berstadt, Frankfurt
I work with great people because I accompany them with all their diversity of lifestyles and paths - people who want to be touched and moved, who want to experience clarity and support, as well as a quality of peace and happiness.
Offers
Classes and Workshops

Online Practitioner / Online Classes

Other offers
Philosophy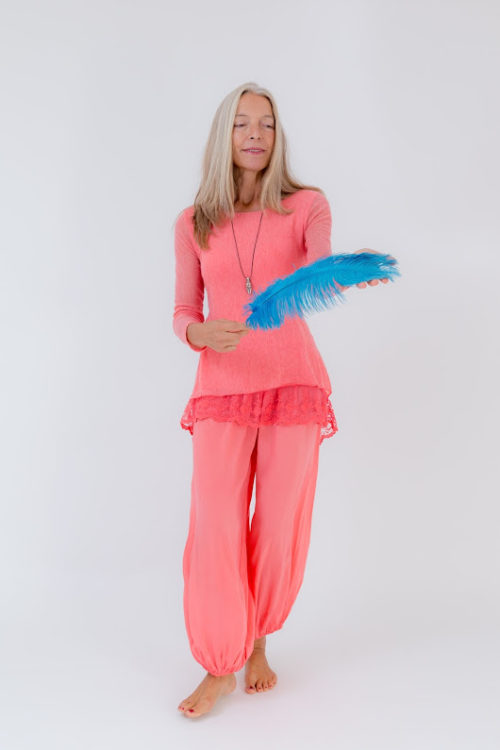 Dear Pravahi,
I have felt inspired by your joy and zest for life for a very long time. In this seminar I was also able to discover your feminine power and a very clear presence.
The whole time I felt safe in your presence, which was always felt throughout the room. You were simply there when you were needed and guided every step so well that every massage could flow beautifully. I also found the whole setting to be very characterized by "nonjudgmental appreciation" and uncomplicatedness. I also felt very comfortable with everyone in the whole group.
The lively encounters and touches still resonate with me today. Thank you for always reminding us to breathe, let go and enjoy.
Bridget
Dates & Facts
Experience

Tantramassage seit 1997

Eigene Tantra-Massage-Seminare ab 2003

seit 2014 Tantra-Meister-Ausbildung

Lebt in Gemeinschaft seit 1999

Languages

English, German

Qualifications

Tantric Massage Practitioner TMV® (AZ)
Background & Training
Meditationslehrerin und Ausbildung in geistigen Heilweisen
Chakra-Energie- und Chakra-Tantramassage seit 1992
Tantric Massage Practitioner TMV® (AZ)
Certification for practitioners with professional experience.
The Tantra Massage Association (TMV®) offers the chance of extraordinary certification for providers with comprehensive professional experience
at TantraConnection, Olaf Göbel
Start of Certification, 5/2017
Certificate, 6/2017

Ausbildung in Dekonditionierung und Psychotherapie
4-Jahres-Tantra-Zyklus bei Samuel Widmer ab 1996
Gemeinschafts-Jahresgruppe bei Thomas Hübl 1997
Contact
email hidden; JavaScript is required