This profile was automatically translated using Google Translate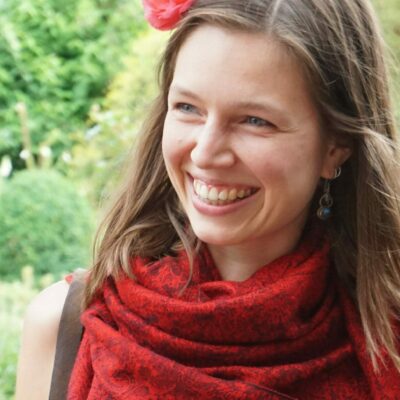 Mirjam Irene
Leiden (Netherlands) , Ivrea area (Italy)
Working with sexual energy is part of my daily life and meditation! My Tao Tantric massage and de-armoring work is inspired by a fusion of Taoist and Tantric philosophy and practice.
Offers
Classes and Workshops

Online Practitioner / Online Classes

Other offers
Philosophy
Sexual energy is something magical that we should honor. It is a beautiful way to connect with your own body and its vitality. Get out of your head and into the experience. In this experience you can be who you are. With all sides - pleasure, beauty, pain and eros.
For me, the tantra massage is a sensual and erotic encounter full of joie de vivre and enjoyment. It encourages awakening the flow of life energy in the body and is not intended to loosen muscles, but to awaken the feeling of "flow". It is a sacred space where the divine in the receiver is worshiped by the giver through tender and loving touch. There is a special blessing in receiving and surrendering to all the sensations that arise in this beautiful massage ritual.



Mirjam works with Conscious Sexuality since 2018. From 2021 till November 2022 she was part of the ANANDA Massage team - further information about Ananda you can find on the
Dates & Facts
Experience

Arbeit mit TaoTantra Massage seit 2018

Arbeit mit Counseling und Coaching seit 2014

Languages

English, German, Dutch

Qualifications

Tantric Massage Practitioner TMV® (AZ)
Background & Training
Tao Shamanic Priestess Training
Tantric Massage Practitioner TMV® (AZ)
Certification for practitioners with professional experience.
The Tantra Massage Association (TMV®) offers the chance of extraordinary certification for providers with comprehensive professional experience
at TantraConnection, Olaf Göbel
Start of Certification, 8/2020
Certificate, 1/2022

TaoTantric Arts Sacred Femininity Facilitator Training
Sex, Love and Relationship Coach, Tantric Institute of Integrated Sexuality
MA Religion Studies - Theology and Spiritual Care, Utrecht University (Netherlands)
Teacher of Hatha Yoga, International Sivananda Yoga Vedanta Reith bei Kitzbühel (Austria)
MSC Clinical Psychology, Twente University (Netherlands)
BSC Psychology, Leiden University (Netherlands)