I am a Professional Member of The Association of Somatic & Integrative Sexologists (ASIS) and a Lead Faculty member of The International School of Temple Arts (ISTA).
Offers
Classes and Workshops
Philosophy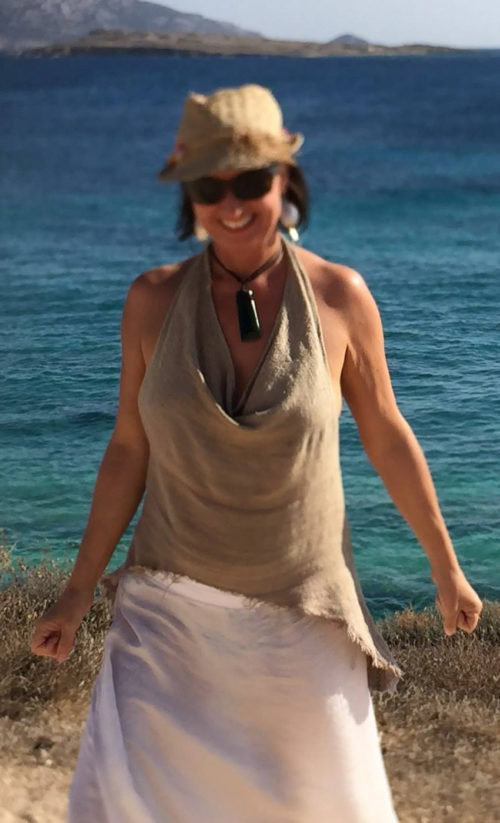 "The exploration of this work as part of my own journey, revealed to me how working with Sexuality, Tantra, Shamanism and Breathwork could open a portal to personal transformation, healing, power and freedom. I now love to share these gifts with others. I was a medical diagnostic scientist for 20 years. I bring my scientific skills which include a healthy dose of cynicism and skepticism, and my experience of the physical manifestations of dis-ease now through my heart, my inner shaman, my bodywork skills and my intuition, to offer a space for transformation." Elaine
Testimonials
===========
'I found Elaine to be one of the most empathetic and focused healers I've ever worked with. I had some quite out of the ordinary childhood experiences to grow through and Elaine was like a Warrior-Mama, she went right there with me and held the space beautifully, all the time working and weaving with a number of modalities she has mastered. Ten out of ten, no reservations.'
'Elaine is an open hearted, deeply intuitive practitioner with a strong space holding capacity'
'Elaine was extremely patient, sympathetic and compassionate in the way she worked with me, establishing herself as a safe person before any physical touch took place.'
'I was struck by how much knowledge Elaine has about the workings of the body. She balances a solid understanding of human biology with a highly-attuned intuition and an ability to read the body at many levels. What really impressed me was the way she weaved together the scientific and the intuitive. Drawing from three different disciplines – Sexological Bodywork, Tantra and breath work – meant that she always had the right tools and techniques to hand when they were needed.'
'By the last couple of sessions Elaine had gained the complete trust of my body and my energy system and we were able to release years (maybe centuries) of tension in my pelvic region and my anus. It felt like a miracle – and a tribute to Elaine's gifts as a practitioner – that such a lot could be achieved so quickly.'
'There were moments during the process when I looked into Elaine's eyes and saw a very old, very wise being holding space for me. Occasionally the process felt almost mystical and quite wondrous – but somehow this was always grounded in skill, knowledge and a playful sense of humour.'
My client practice is mainly based in London for private sessions, but I do sometimes travel for intensive private sessions/retreats. I currently facilitate workshops and intensive retreats ranging from evening events to 7 day long intensive immersions in London and many other locations overseas.
I offer private sessions for individuals or couples of any gender mix or sexual orientation. My sessions are bespoke to your requirements and often include a mix of listening, sharing information/education, teaching embodiment skills, bodywork, energy work and home play. This may include body de-armouring, genital mapping, sacred intimate rituals, breathwork journeying, orgasmic yoga (self pleasuring coaching), and emotional expression and release.
I often support clients with:
Embodiment – your ability to feel and connect to your body
Pleasure – being able to experience more pleasure/orgasmic energy
Reclaiming your personal power
Understanding your genital anatomy and sexual energy
Learning what turns you on and how to ask for it
Letting go of old life conditioning/patterns
Guilt or shame around sex
Disconnecting, boredom or disappearing during sex
Ejaculation choice
Erectile dysfunction
Consent and boundaries
Wounds around childhood, grief and abuse
Changing patterns of using fantasy or pornography for sexual arousal
Libido challenges 'too high' or 'too low'
Self love and self pleasuring (masturbation)
Emotional body clearing and mastery
All in all it's about a coming back to your natural state of wholeness by transforming your sexual, emotional and/or spiritual well being.
Dates & Facts
Languages

English

Qualifications

Certified Sexological Bodyworker
Background & Training
Certified Sexological Bodyworker
International professional training for somatic sex educators. Recognized by the Association of Somatic and Integrative Sexologists (ASIS).
at ISS, Uma Ayelet Furman and Deej Juventin
Start of Training–
Certificate, 11/2014

Certified Sexological Bodyworker & Somatic Sex Coach
Urban Tantra Professional Graduate
Tantra Educator CT1 with Charles Muir
Certified Shamanic Breathwork Facilitator
Accredited Vascular Scientist
BSc Hons Biomedical Sciences
Directions
Transformation Space
Lawrie Park Ave
SE26 London
Get Directions